Please support us while you do your online shopping. There is NO cost to you. Just click on the eScript link below and shop as you normally do. When you do, we receive up to 11% of the purchase price as a charitable donation from the store, and we give 100% of that donation back to our community. Did we mention there is NO cost to you? Thank you for your support!
Click here to shop and we earn!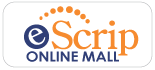 Amazon Best Buy Sahalie 1-800- flowers Old navy The Gap Shalie Verizon Sears 1-800-Petmeds Expedia Apple(iTunes) Vistaprint QVC Shutterfly Petco Clinique Pet Smart Sephora REI Travelocity Priceline Barnes and Noble Lands End DSW and many more
Do you shop at Cardiff Seaside Market or dine at Pizza Port??
Then visit www.escrip.com and register and everytime you shop or dine there, we receive a donation from the store. You don't need a card or number, it's automatic and no cost to you.