White Can Days VOLUNTEERS Needed!
Click on the sign up link below for upcoming dates and to register!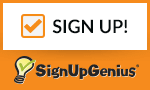 May Membership Meeting Project: LEO CLUB CHANGE WAR! The WISD Leo Club has been leading a school wide fundraiser these past few weeks where students bring in loose change. A portion of the funds raised will go toward providing the class that raises the most money will win a pizza party! The rest of the funds will go to the WISD Leo Club. This gave me an idea! To support both of our Leo Clubs fundraising efforts, I am challenging club members to bring in loose change to our May membership meeting! Funds collected will be divided among both Leo Club accounts. Check under your car seats, clean out the bottom of your purse, empty that penny jar…..I've got a bag of coins ready to go!
Terri Lynn Nuts Online Ordering: This is an ongoing fundraiser. You can reorder at any time. This online account makes ordering easy for members, and your friends and family, . The Ann Arbor Host earns a 30% profit on every item you order. Orders from Terri Lynn Nuts are mailed directly to you and you can place orders all year around! Use the link to place your order today. https://annarborhostlions.terrilynncares.com/